ARION Running
2020-2023
Duration Contract
Role UX/UI Designer
I joined ATOGEAR as their second designer, and we're building ARION, a next-generation wearable that helps runners improve their technique to run faster, longer and safer, and I couldn't be more excited about this new challenge.
Challenge
Design of the ARION ecosystem of products for runners: mobile and web apps.
Idea
Smart insoles capturing your foot movement patterns making it easy to choose between running shoes, to assess athlete's performance or to provide orthotic recommendation.
ARION products for runners
ARION has revealed something important: human movement is extraordinarily unique. We have different movement code, muscles and joints loading, and ideas about motion. This means there are so many ways to make products for us. By studying how your body moves, ARION can understand all the different parts that make each human movement special.

1. ARIONCOACH mobile app
Redesign the mobile app, focusing on AI coaching experience. ARION app provides coaching insights on how to run healthier and improve your running technique. App is a running companion for ARION insoles users: smart wearables communicate with app that gives coaching advice based on your running identity – unique gaitline pattern, muscle loading and performance metrics.
Designed a while ago as a company pitch product, it received positive feedback from customers, so ARION found just the right time to implement new features neatly and freshen the UI. I was happy to try it out as a user and improve as a designer.
I started with collecting scope of current functionality with help of Project Manager. I get familiar with a redesign concept made before I joined, later on learned hardware and tech constraints, market requirements.
I build flows and checked what is missing, user needs were collected mainly by R&D team. I reviewed user flow improvements with team and founders.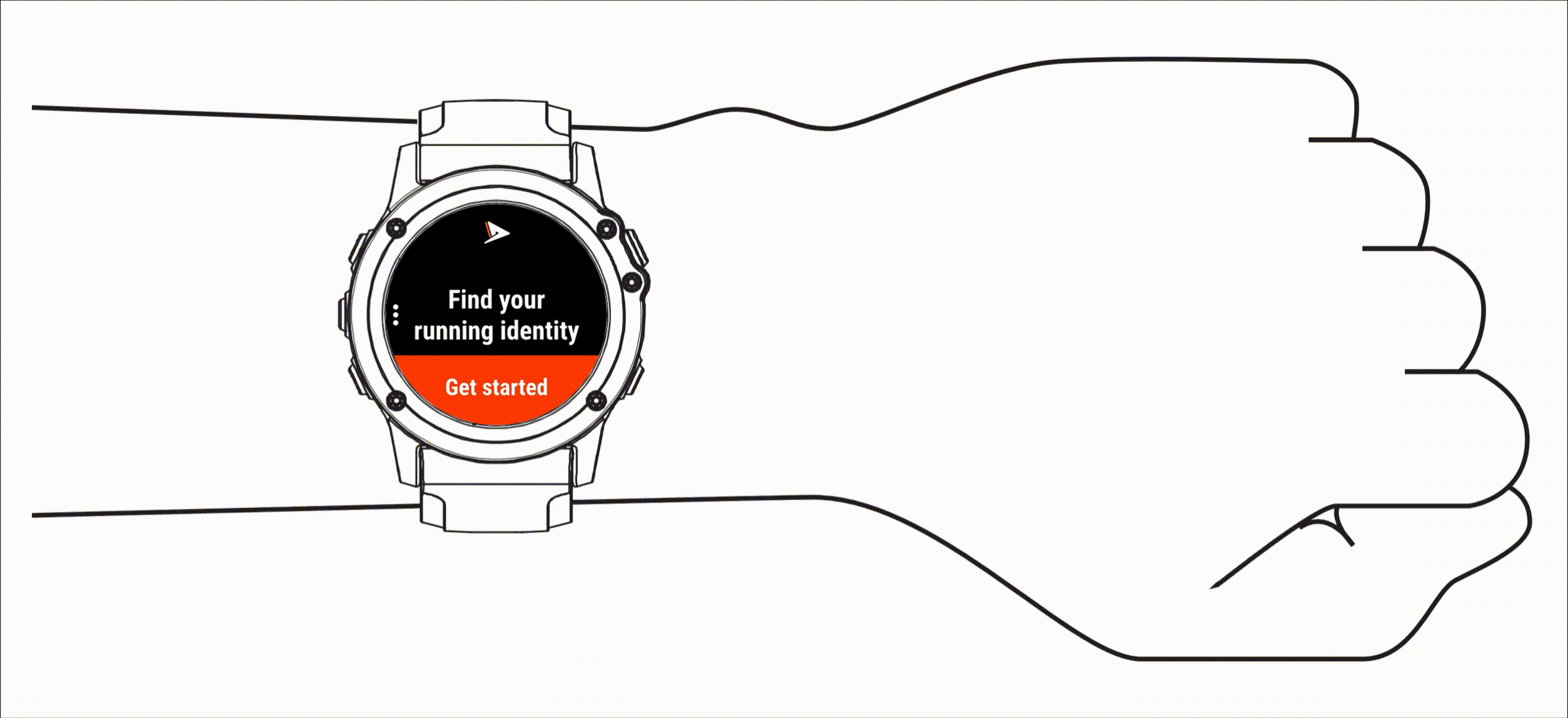 ARIONCOACH for smart watch

User flows
Simultaneously with reviewing flows and getting to know the app, I was looking for the UI inspiration. I get started with UI, inspired by more dynamic, bold and sporty color selection, modern elements, modules and interaction patterns. Orange became more bright and juicy, black got rid of warmth presenting more opportunities to play with grey tones.

Before and after redesign example

Prototypes
During the run and main screen demos (clickable)
If you don't see previews enable third-party cookies
2. ARIONHUB for running store experience
After the mobile app project has been finished I was trusted to proceed with more. I became part of the tech team focusing on B2B segment of audience. Started working in sprints, delivering features with proper hand-off to developers and keeping design ideas language of the apps consistent.
Idea of ARIONHUB is to help stores to create engaging experience for runners buying shoes. It is more than just running analysis. HUB app for iPad provides runners with an opportunity to compare their performance in different shoes and choose the right one for running efficiency or injury prevention. HUB has customers in the Netherlands, UK, Germany, France and Japan.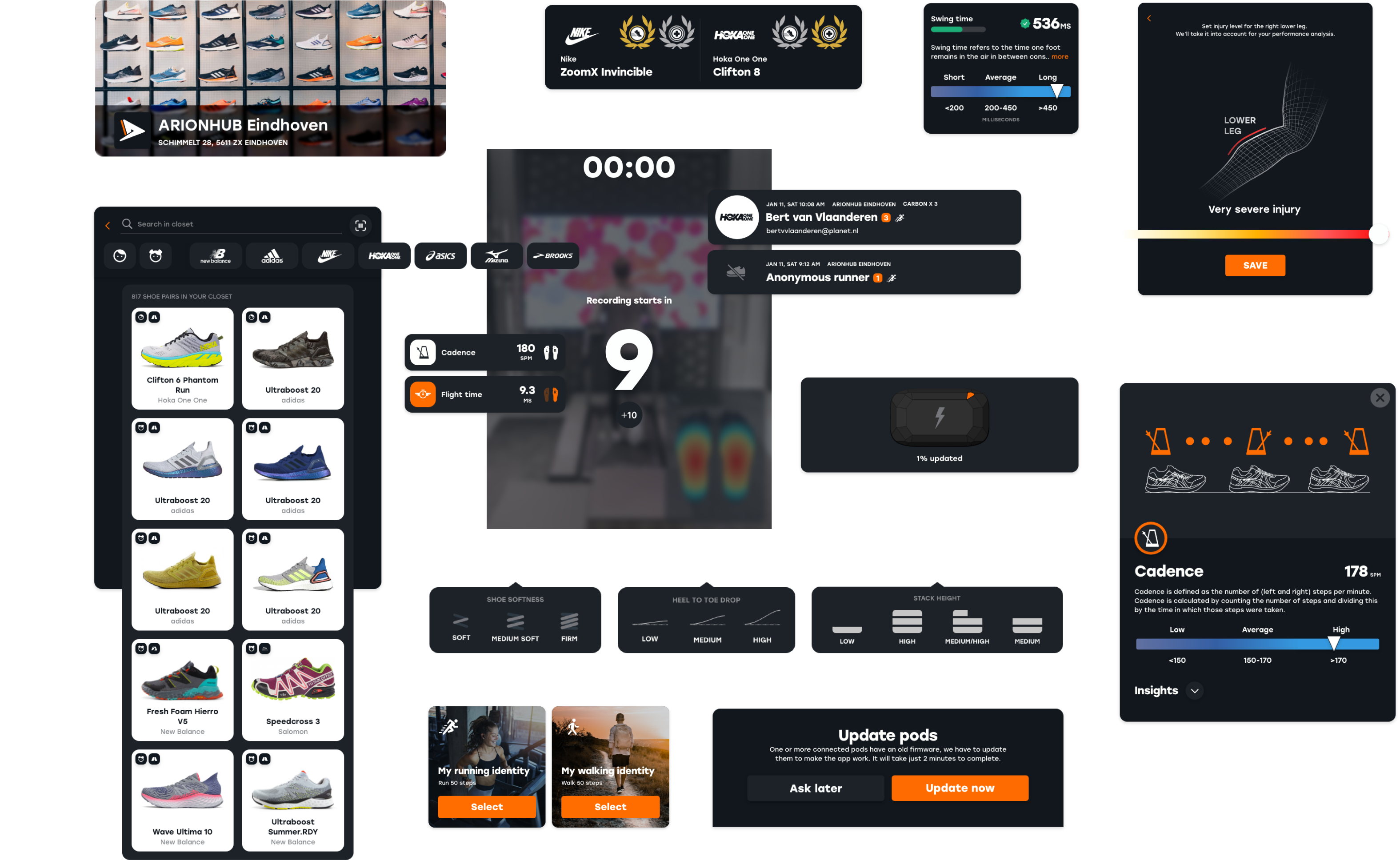 Components

UI customisation for partners
Video annotation feature demo (clickable)
If you don't see previews enable third-party cookies
With ARIONHUB I had the incredible opportunity to visit Berlin on a special mission: testing the latest running shoes from ASICS Gel-Nimbus vs. Gel-Kayano and observing our app in action with professional runners. As a designer, there's nothing more fulfilling than receiving feedback directly from users in a real setting. And I am so proud we made it so great, 100+ unique running identities measured and explained which shoe works best based on AI recommendation of ARIONHUB app.
ASICS x ARIONHUB in Berlin
3. ARIONHUB App management
Web application that manages HUB app configuration for each partner store. This tool was designed for smooth communication between Sales department and Store owners. Think of creating sales prospects, signing a contract with a store, managing store subscriptions, branding customisation, creating accounts for a store team, setting custom theme for the app. On top of it configuring email communication with customers and reviewing store performance.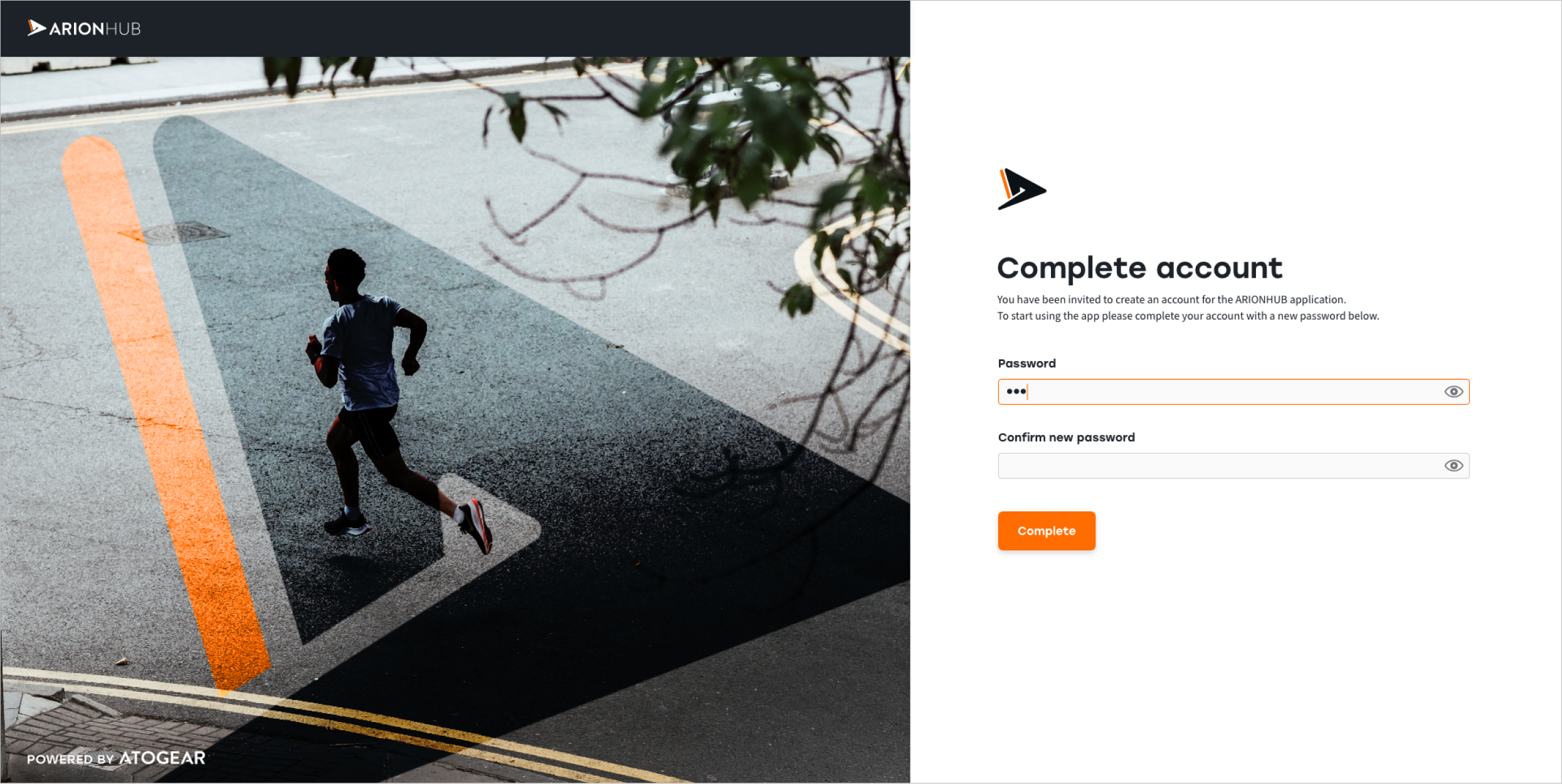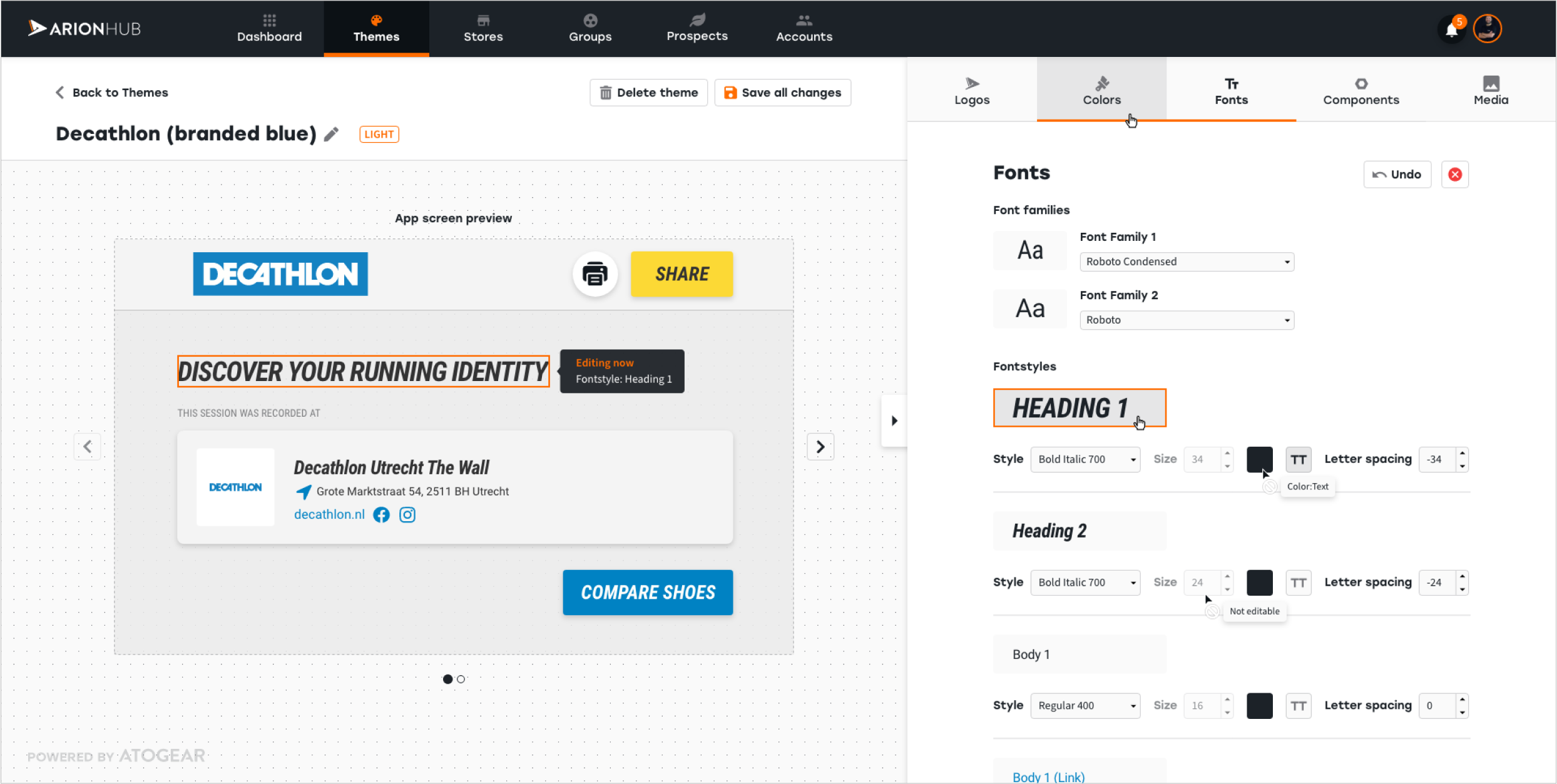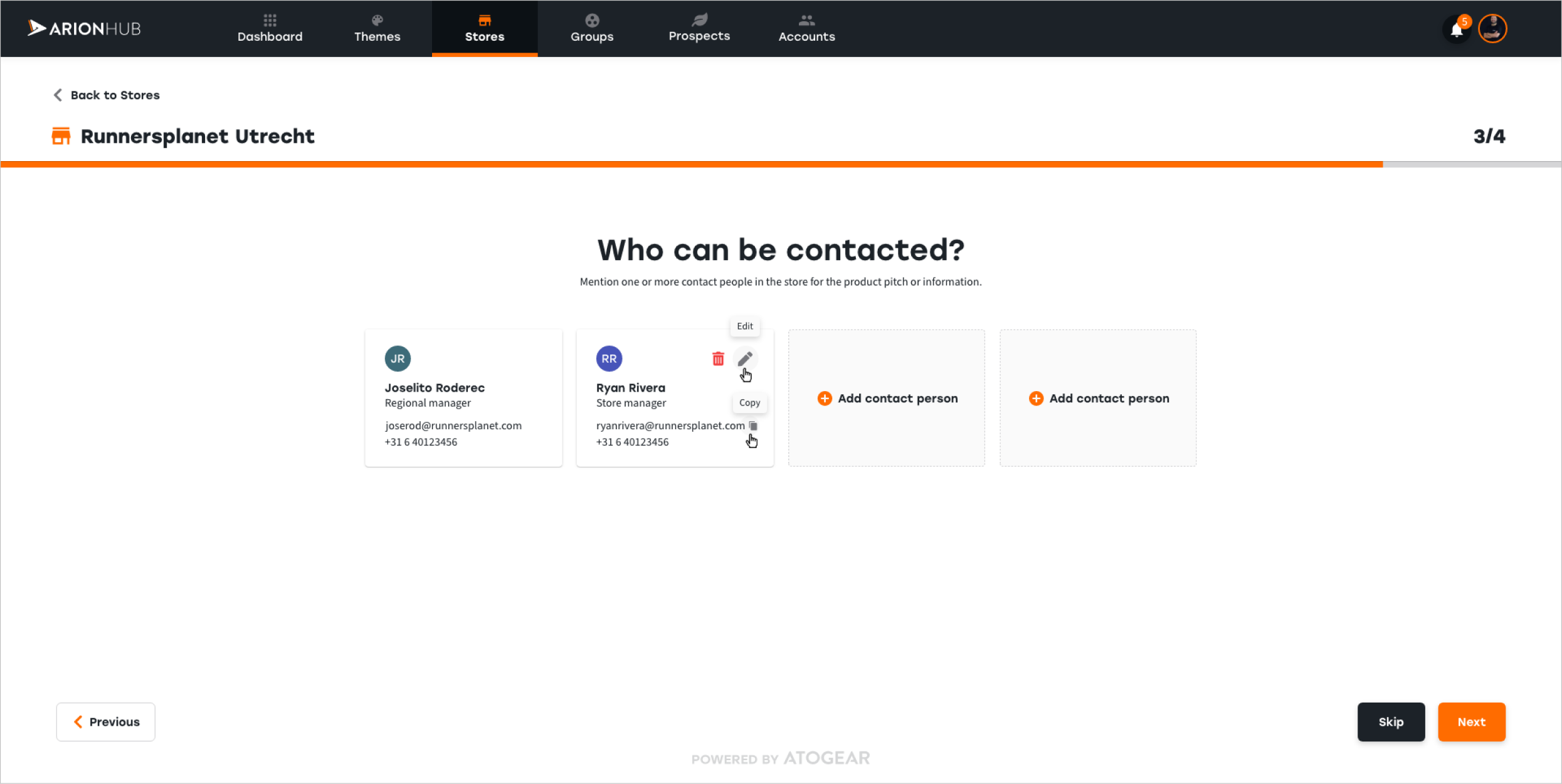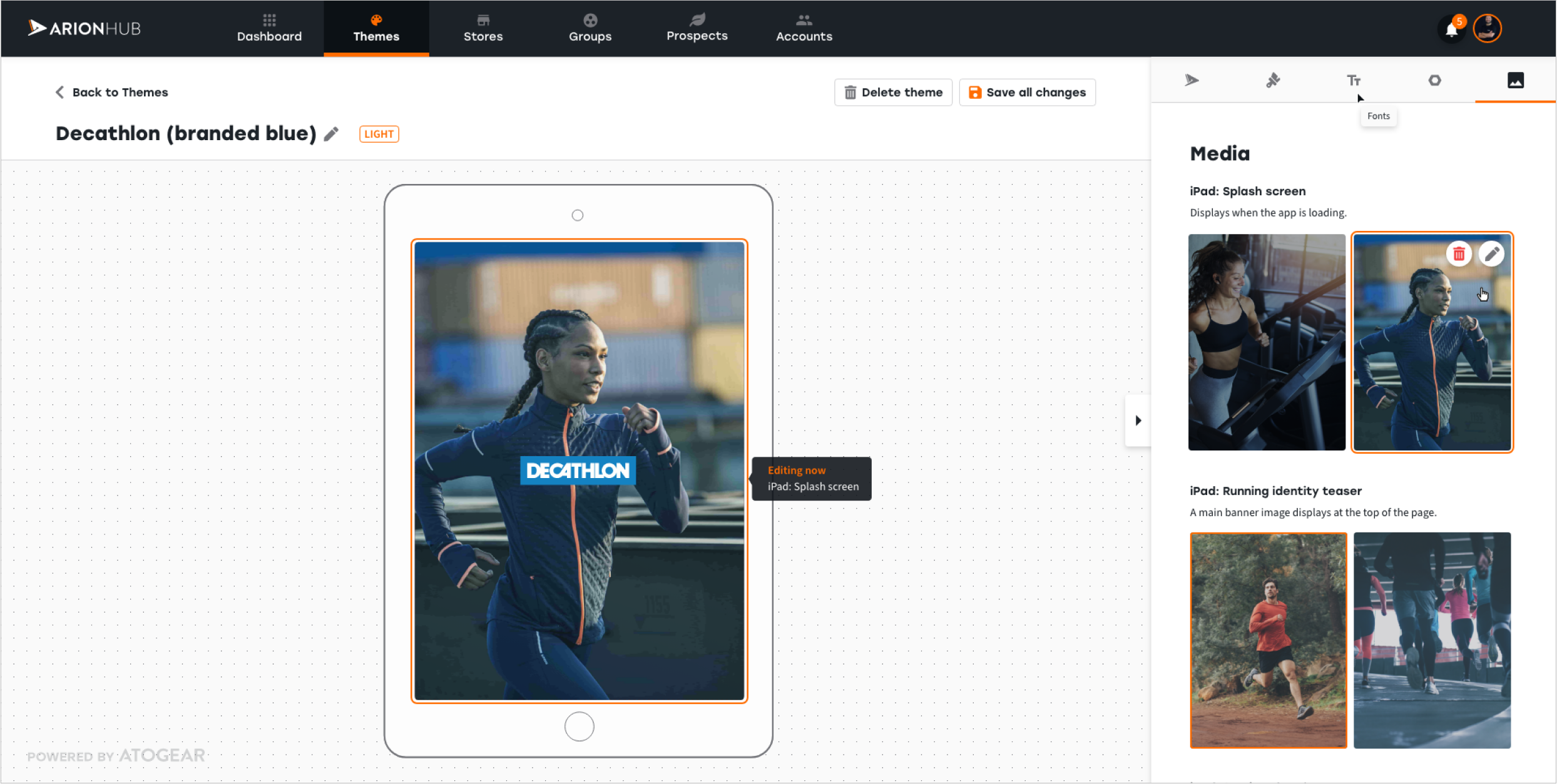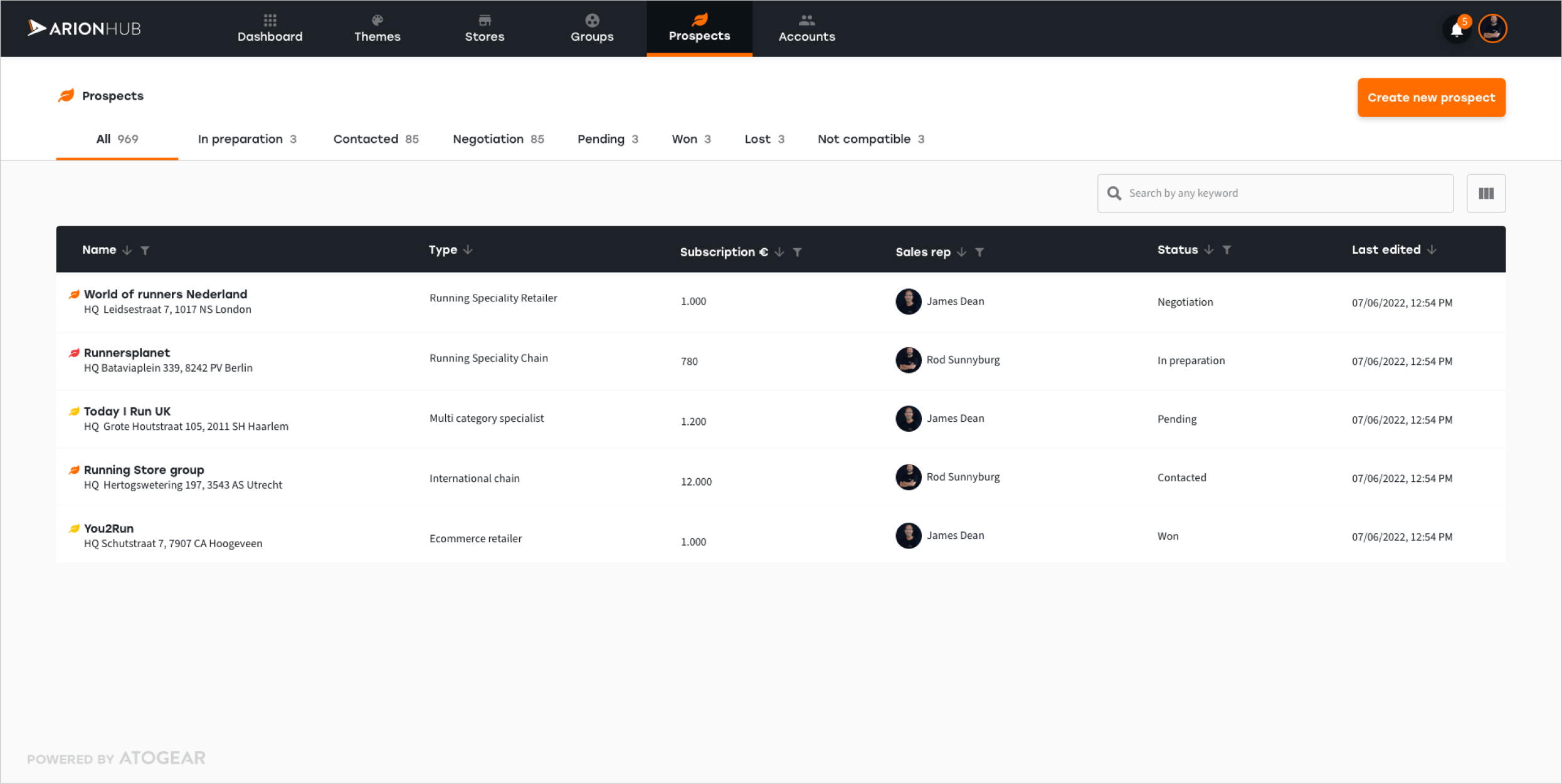 App management system for desktop (scroll→)
ARIONSTUDIO for runners research and shoe development
Web application that helps R&D departments of running shoe brands to research runners and shoe performance. Facilitate tests, surveys, including analytics and reports. Complex tool to understand human movement in field.
If you want to know more about ARION project, contact me or explore arion.run ➔